Artur Małolepszy, PhD

Artur Małolepszy defended his PhD thesis 'Production and characterization of multiwalled carbon nanotubes and metal oxide functional composites for formic acid fuel cells applications' in 2015 at the Faculty of Materials Science and Engineering, Warsaw University of Technology. Since 2016 he has been employed as an Assistant Professor at the Faculty of Chemical and Process Engineering, Warsaw University of Technology.
cHe is focused on the carbon nanomaterials synthesis, characterization and searching for new applications for these nanomaterials in the field of biomaterials, alternative energy sources, electromagnetic screens and against infrared radiation. He is a principal investigator of the 'Fluorescent carbon nanodots production' LIDER IX project financed by the National Centre for Research and Development.
Artur Małolepszy is a co-author of more than 30 publications in peer-reviewed international journals. In 2013 he received a team award of the first degree for scientific-research achievements founded by Rector of Warsaw University of Technology.
Piotr Mazurek, PhD

Piotr Mazurek studied chemical engineering at the West Pomeranian University of Technology (Poland) graduating with a Bachelor's degree (one semester spent at the German Aerospace Center, Braunschweig, Germany) in 2011 and Master's degree in 2012. He received a PhD degree in polymer science from the Technical University of Denmark (DTU) in 2016 for the study on the development of functional materials used as dielectric elastomer transducers (DET).
After the graduation he became an industrial postdoctoral researcher at Grundfos (Denmark) working on smart anti-corrosion materials. He was a visiting postdoctoral researcher at the McMaster University (Hamilton, Canada) where he investigated new strategies for preparation of silicone membranes with physically immobilized enzymes.
Currently he is a researcher at the Danish Polymer Centre, DTU where he works on smart elastomeric silicone membranes and foams used in DET, biomedical drug delivery and magnetochromatic systems.
Zoltan Kovács, PhD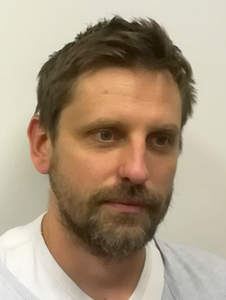 Dr Kovács currently holds the position of an Associate Professor at the Department of Food Engineering, Szent István University (Hungary). He received his MSc degree in Food Engineering in 2003 from the Szent István University. In 2008 he obtained his PhD degree in Chemical Engineering from the Institute of Process Engineering at the Johannes Kepler Universitaet Linz (Austria).
Prior to his current position, he had worked as a Senior Scientist for 5 years at the Institute of Bioprocess Engineering and Pharmaceutical Technology of the University of Applied Sciences Mittelhessen, Giessen (Germany). In 2013 he obtained the Marie Curie Career Integration Grant that allowed him - after 10 years of international experience spent abroad - to return to his home country and to establish his own research group.
During his scientific career, he has received distinctions from the European Membrane Society, the Association of German Engineers as well as has recently been awarded the Bolyai Research Fellowship by the Hungarian Academy of Sciences. He has participated and is responsible for many out-of-campus projects with industrial partners regarding bioprocess design and membrane technology development.
Oleksandr Ivashchuk, PhD

Dr Ivashchuk received his PhD degree in 2008 for the research of the catalytic liquid-phase cyclohexane oxidation – he has developed effective catalytic systems for the process (binary system, catalytic complex solutions and individual catalysts). He is currently employed as an Associate Dean for Master's Studies for Educational and Organizational Work as well as an Associate Professor of the Department of Chemical Engineering, Lviv Polytechnic National University (Ukraine).
For ten years Dr Ivashchuk has been working on the implementation of 6 research themes of the technologies of organic products (research of catalytic oxidization of liquid hydrocarbons, sonochemistry intensification of catalytic oxidization of cyclohexane, development of homogeneous catalysts, intensification of diesel fuel with organic compounds etc.) at Lviv Polytechnic National University. In 2012 he has received an academic status of a Senior Research Fellow. His current field of interest is computer simulation in different fields of engineering and technology.
Dr Ivashchuk was the Head of the Young Scientists Council of the Institute of Chemistry and Chemical Technologies at the Lviv Polytechnic National University till 2017. He is now the Head of the Commission for International Affairs of the Scientific Society of Students, Doctoral Candidates and Young Researchers at the University. He is also the Secretary of the International Scientific Conference 'Chemical Technology and Engineering' and the International Youth Science Forum 'Litteris Et Artibus'. He is a co-author of more than 100 scientific and educational works, including 3 patents and 5 textbooks.
Andrzej Krasiński, DSc

Dr Andrzej Krasiński obtained his PhD degree in 2005 at the Faculty of Chemical and Process Engineering, Warsaw University of Technology and a post-doctoral degree (DSc) in 2018 for a comprehensive research on emulsion separation using coalescing filtration. From 2007 to 2009, during his post-doctoral stay in the UK he was employed at the University of Reading as a Product Development Engineer. He is currently employed as an Associate Dean for Student Affairs as well as an Assistant Professor in the Chair of Integrated Processes Engineering at the Faculty of Chemical and Process Engineering, Warsaw University of Technology.
He is focused on the separation processes, mostly on the droplets coalescence and separation of gas-liquid and liquid-liquid dispersions, pervaporation and gas cleaning techniques. He has also been involved in the industrially-oriented projects related to pyrolysis of wastes, development of filtration products for automotive industry and ammonia plant. Based on the past experience, his area of expertise also covers aggregation of particles in turbulent flows, precipitation, CFD modeling of reactive and multiphase flows as well as rheology of dense suspensions.
Dr Krasiński is a co-author of more than 40 publications in peer-reviewed journals, over 30 conference presentations and 2 patents. He is an expert of the National Center for Research and Development and a past member of IChemE, where in 2009 he achieved a Chartered Engineer (CEng) status.
Marcin Małek, PhD

Marcin Małek studied Materials Sciences and Engineering at the Military University of Technology (Warsaw, Poland). He defended his PhD thesis 'The ecological method of ceramic shell moulds fabrication for precision casting process of aircraft turbine blades using nickel superalloys' in 2017 at the Faculty of Materials Science and Engineering, Warsaw University of Technology. Since 2017 he is employed as an Assistant Professor at the Faculty of Civil Engineering and Geodesy, Military University of Technology.
His scientific area of research includes concrete technology and ecology in building processes as well as waste materials with natural and artificial origin, e.g.: tire fibers, PE, PP, PET, ABS, every type of glass, fly ashes and more. Lately, he has been focusing on the modification of the concrete structure using waste materials and methods to increase its mechanical and physical properties.
Marcin Małek is a co-author of more than 40 original manuscripts, 6 patents and 3 patent applications. In 2018 he received an Outstanding Young Researchers Scholarship from the Ministry of Science and Higher Education.