Prof. Dr. Ing. Joerg Vienken
Jörg Vienken graduated in Chemical Engineering at the Technical University of Darmstadt and received a Doctoral degree in Biophysics & Bioengineering from the Technical University of Aachen, both in Germany. He was then appointed the position of an Associate Professor at the Institute for Biotechnology of Würzburg University.
In 1985, he switched to the medical device industry and worked for 11 years at AKZO NOBEL Membrana in Wuppertal (today 3M) as Director for Clinical Research and Science Services, followed by a position as Vice President BioSciences in Fresenius Medical Care in Bad Homburg, Germany until 2013. Vienken retired as pensioner in July 2013 reaching the age limit of 65 years. He, then, joined Nephro-Solutions AG in Hamburg, as one of its Board members in October 2013 and hold this position until December 2015.
Since January 2016, JV works as a Freelance Consultant for the European Medical Device Industry. He serves as member of Technical Advisory Boards of German Research Institutions e.g. for the Karlsruhe Institute of Technology (KIT), the Helmholtz-Association and the Berlin-Brandenburg Centre for Regenerative Therapies (BCRT). As a member of the Supervisory Board of Zytoprotec GmbH in Vienna/A and as a cofounder of the start-up company Aquarray GmbH at KIT Karlsruhe, he supports product innovation and development in life sciences up to market entry.
Jörg Vienken is Past President of the International Federation of Artificial Organs (IFAO), the umbrella society of the continental societies from Europe (ESAO), the USA (ASAIO) and Japan (JASO). He is also Past President of the Association of German Biotech Companies (VBU- DECHEMA). 
Although retired from his professional career, Jörg Vienken is still engaged in R&D of Life Sciences by both, teaching "Biomaterials" and "Artificial Organs" at several European Universities, and by serving as co-editor of journals dedicated to the realm of Artificial Organs. JV has published more than 350 scientific publications, book chapters and 8 books. He holds the position of a "Distinguished Fellow of EDTA-ERA" and was honoured by receiving several international awards, among them the "Emil-Bücherl Award for Lifetime Achievement" of the European Society for Artificial Organs (ESAO).
Prof. Dr. Bernhard Seyfang
Prof. Dr. Bernhard Seyfang received his Diploma from Universität Karlsruhe (TH), specialising in chemical reaction engineering and electrochemical engineering. He then joined Paul-Scherrer-Institut to work on the simplification on polymer electrolyte fuel cell and received his PhD from ETH Zürich. Ten years of industrial experience, in a start-up company and in an enterprise producing chemical and pharmaceutical products, resulted in several publications covering topics about process engineering in industrial applications.
Since April 2018 Bernhard Seyfang is professor for chemical reaction engineering at TH Bingen, a university of applied sciences cooperating with the whole range of chemical and pharmaceutical companies in the wider area around Frankfurt. His research and development interests cover process optimisation procedures, surface characterisation of additively manufactured devices for process engineering applications as well as extraction centrifuges.
Prof.  Andrzej Stankiewicz
Emeritus Professor at Delft University of Technology, the Netherlands, and former Director of TU Delft Process Technology Institute. With more than 40 years of industrial and academic research experience he is an author of numerous scientific publications on process intensification, chemical reaction engineering and industrial catalysis.
Prof. Stankiewicz is one of the pioneers of process intensification. He is the principal author and co-editor of the world's first book on Process Intensification. The book was in 2012 translated to Chinese. Prof. Stankiewicz is also the author of the first full-size academic course on Process Intensification.
He is Editor of Chemical Engineering and Processing: Process Intensification (Elsevier) and Series Editor of the Green Chemistry Books Series (Royal Society of Chemistry). He was the founder and first Chairman of the Working Party on Process Intensification at the European Federation of Chemical Engineering. He currently chairs the Board of the European Process Intensification Centre (EUROPIC).
Current research interests of Prof. Stankiewicz focus on control of molecular interactions and intensification of chemical reactions using electricity-based energy fields (e.g. laser, microwave, UV). The research in that area has brought him prestigious Advanced Investigator Grant from the European Research Council.
More recently, Prof. Stankiewicz has initiated and coordinates the H2020 "ADREM" project on methane valorization using alternative forms of energy in modular catalytic reactors.

Zoltán Kovács, PhD
Dr Kovács is currently a professor and head of Department of Food Process Engineering at the Hungarian University of Agriculture and Life Sciences, Hungary. He received his MSc degree on Food Engineering in 2003 from the Szent István University. In 2008, he obtained his Ph.D. degree on Chemical Engineering from the Institute of Process Engineering at the Johannes Kepler Universitaet Linz, Austria. Prior to his current position, he had worked as a senior scientist for 5 years at the Institute of Bioprocess Engineering and Pharmaceutical Technology of the University of Applied Sciences Mittelhessen, Giessen, Germany. In 2013, he obtained the Marie Curie Career Integration Grant that allow him – after 10 years of international experience in abroad – to return in his home country and to establish his own research group. During his career, he has received distinctions from the European Membrane Society, the Association of German Engineers, and recently awarded the Bolyai Research Fellowship by the Hungarian Academy of Sciences. He has participated to and is responsible for many out-of-campus projects with industrial partners on bioprocess design and membrane technology development.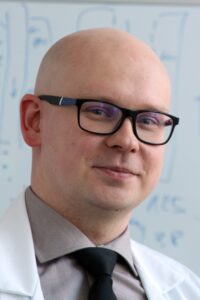 Michał Wojasiński, PhD
Warsaw University of Technology, Faculty of Chemical and Process Engineering, Division of Biotechnology and Bioprocess Engineering, BioMedical Engineering Laboratory
Dr. Michał Wojasiński is a chemical engineer working in the intersection fields like biomedical engineering, tissue engineering, and nanotechnology, building interdisciplinary approaches to various research and engineering problems. He graduated in Chemical Engineering from the Faculty of Chemical and Process Engineering, Warsaw University of Technology (2011). In 2019, he obtained a Ph.D. in the field of chemical engineering. He took up the position of assistant professor in the same Faculty. He teaches medical nanotechnology, implantable medical devices, and bioprocess in the laboratory.
His research interest covers nanostructures formation processes – polymer nanofibers and ceramic nanoparticles – for application in tissue engineering/regenerative medicine. He works on a description of a process of air blowing of polymer fibers, called solution blow spinning, as an extension of his research project granted from the National Science Centre and his Ph.D. Recent publications of his deal with the application of polydopamine coatings on the surface of polyurethane fibers for enhanced adhesion of cells in 3D culture, design of specific nanofibrous materials for microfluidic systems, and a continuous method for the production of hydroxyapatite nanoparticles. Now, Dr. Wojasiński works on incorporating his experience in nanofibers production and synthesis of hydroxyapatite nanoparticles into 3D printing of composite materials and advanced hybrid scaffolds for tissue engineering.
Website: https://www.biomedlab.pw.edu.pl/team/michal-wojasinski