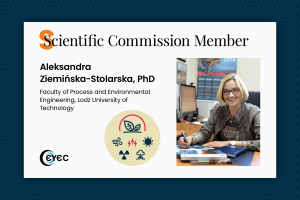 Aleksandra Ziemińska-Stolarska, PhD
Aleksandra Ziemińska-Stolarska since October 2016 works as an assistant professor at the Faculty of Heat and Mass Transfer Processes, Lodz University of Technology. She has completed an Erasmus training course in Biochemistry at Evora University, Portugal and also an internship at the Norwegian Institute for Water Research (NIVA) Oslo, Norway in the frame of the MONSUL project.
She has taken part in realization of many international scientific projects including: Waterpraxis (2008-2011) "From theory and plans to eco-efficient and sustainable practices to improve the status of the Baltic Sea."; Cluster: "Baltic Impulse – saving the Baltic Sea waters" reducing pollution eutrophication in the Baltic Sea (2012-2013); INVITES (2016-2019) – "Innovative Equipment for Intensified Recovery of CO2 from Flue Gases"; HIPERION (2019-2023, Horizon 2020) "HybrId Photovoltaics for Efficiency Record using Integrated Optical Technology".
Her research activity covers the area of mathematical modeling of water quality, laboratory analysis of water and sediments, CFD simulations of hydrodynamic in large water bodies and LCA analysis. She is an author and co-author of over 15 papers as well as a co-founder of the biotechnology startup AKRIMTECH. The company is at the stage of creating a prototype of a high-performance bioreactor for multiplying stem cells.