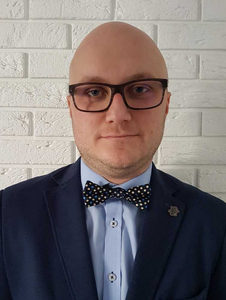 Time to present to you the last member of the 8th EYEC Scientific Commission – Marcin Małek from the Military University of Technology, Warsaw, Poland. Marcin Małek studied Materials Sciences and Engineering at the Military University of Technology. He defended his PhD thesis 'The ecological method of ceramic shell moulds fabrication for precision casting process of aircraft turbine blades using nickel superalloys' in 2017 at the Faculty of Materials Science and Engineering, Warsaw University of Technology. Since 2017 he is employed as an Assistant Professor at the Faculty of Civil Engineering and Geodesy, Military University of Technology.
His scientific area of research includes concrete technology and ecology in building processes as well as waste materials with natural and artificial origin, e.g.: tire fibers, PE, PP, PET, ABS, every type of glass, fly ashes and more. Lately, he has been focusing on the modification of the concrete structure using waste materials and methods to increase its mechanical and physical properties.
Marcin Małek is a co-author of more than 40 original manuscripts, 6 patents and 3 patent applications. In 2018 he received an Outstanding Young Researchers Scholarship from the Ministry of Science and Higher Education.
Find out more about the Members of the Scientific Commission here.