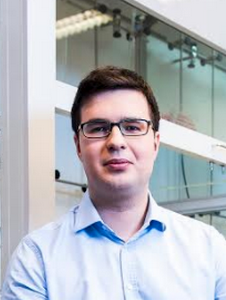 As it's less than a month left till the Conference, we would like to present to you the next Special Guest - Wiktor Lewandowski from the Faculty of Chemistry, University of Warsaw. He graduated from the inter-faculty studies in Mathematics and Natural Sciences at the University of Warsaw in 2008 with a Master's degree in chemistry and biotechnology. In 2013 he obtained a PhD degree in international doctoral studies at the Faculty of Chemistry of the University of Warsaw. He is currently an Adjunct Professor at the Faculty.
During his studies he has been to several abroad internships spent in various institutions, ex. Massachusetts Institute of Technology, USA and CICbiomaGUNE, Spain. He was the head of several research grants. His doctoral dissertation was awarded the Minister of Science and Higher Education and the Aleksander Zamojski of the Polish Chemical Society Prize. Wiktor Lewandowski is a two-time winner of the START scholarship. He has also received a scholarship for outstanding young scientists of the Ministry of Science and Higher Education. In 2009-2010 he was a vice-chairman and a co-organizer of the Students' Section of Polish Chemical Society meetings.
He has published 18 papers (including top journals such as Nature Communications, Angewandte Chemie, Chemistry of Materials) in the areas of material chemistry/nanotechnology, with a particular emphasis on utilizing organic chemistry tools in the development of nanomaterials. Lately, he has been focusing on the dynamic self-assembly of nanomaterials with the perspective applications in metamaterial, optoelectronic and chiral plasmonic technologies.
Find out more about our Special Guests here.