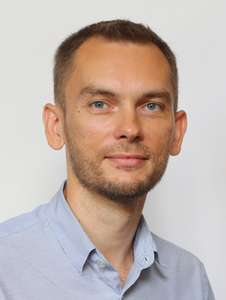 The next member of this year's EYEC Scientific Commission is Dr Oleksandr Ivashchuk, Associate Dean for Master's Studies for Educational and Organizational Work and Associate Professor of the Department of Chemical Engineering, Lviv Polytechnic National University (Ukraine).
Dr Ivashchuk received his PhD degree in 2008 for the research of the catalytic liquid-phase cyclohexane oxidation – he has developed effective catalytic systems for the process (binary system, catalytic complex solutions and individual catalysts). For ten years he has been working on the implementation of 6 research themes of the technologies of organic products (research of catalytic oxidization of liquid hydrocarbons, sonochemistry intensification of catalytic oxidization of cyclohexane, development of homogeneous catalysts, intensification of diesel fuel with organic compounds etc.) at Lviv Polytechnic National University. In 2012 he has received an academic status of a Senior Research Fellow. His current field of interest is computer simulation in different fields of engineering and technology.
Dr Ivashchuk was the Head of the Young Scientists Council of the Institute of Chemistry and Chemical Technologies at the Lviv Polytechnic National University till 2017. He is now the Head of the Commission for International Affairs of the Scientific Society of Students, Doctoral Candidates and Young Researchers at the University. He is also the Secretary of the International Scientific Conference 'Chemical Technology and Engineering' and the International Youth Science Forum 'Litteris Et Artibus'. He is a co-author of more than 100 scientific and educational works, including 3 patents and 5 textbooks.
Find out more about the Members of the Scientific Commission here.