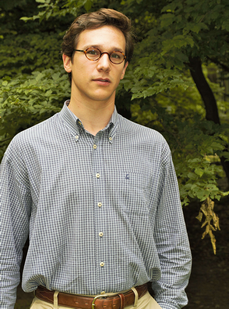 Another great news – we'd like to present to you our next Special Guest of the 8th EYEC edition: Heinrich Eckhard Kolb, Dipl. -Ing. from Karlsruhe Institute of Technology, Germany.
Heinrich Eckhard Kolb became fascinated by the field of gas kinetics and filtration during his undergraduate study. This fascination continuously inspires him even after 8 years of academic and industrial experience.
He received his Diploma from the Karlsruhe Institute of Technology in 2014 with a student research project about the permeability of dust cakes and a thesis on the nucleation and coagulation of sulfuric acid aerosols.
Currently, Eckhard is pursuing a PhD at the Karlsruhe Institute of Technology in the group of Professor Gerhard Kasper. His research comprises many aspects of oil mist filters for the filtration of compressed gases. Recent publications of him in this field deal with the re-entrainment of droplets from filters, the impact of operating conditions, influences and description of glass fiber media properties as well as the extension of the "Film-and-Channel-Model" towards the efficiency of oil mist filters.
Find out more about our Special Guests here.